STADIUM TRUCK FUN!
The Jumpshot ST is the stadium truck version of the Jumpshot platform and features a cool, narrow racing body and extra-wide stance which gives the truck fantastic looks and great performance! Underneath the sleek racing body, the chassis is a Savage-style TVP (Twin Vertical Plate) design to give you a reliable chassis and center-balanced weight. The modular design of the Jumpshot ST gives you simple maintenance and crash protection for all the electronics. The battery is also easily accessed from underneath the truck, so changing batteries for more fun driving is extra-easy and fast!
The Jumpshot ST features a radio box that's protected against the elements, a direct-link steering system with a waterproof steering servo and a strong rear-wheel 2WD drivetrain. A complete set of ball bearings lets you get the most out of every battery pack without losing any power from the brushed motor fitted at the back of the chassis. This means you can blast through any type of terrain you want, whether it's grass, mud, asphalt, gravel or anything else! 

Easy To Drive!
The Jumpshot ST is super-easy to drive and get familiar with – all you have to do is plug in the included battery and switch on the radio and car. It's that easy! To drive the truck, simply pick up the controller with your left hand, put your left index finger into the trigger area, and then put your right hand on the steering wheel – it's as natural as driving a real car! Turn the wheel to go left and right, and gently pull on the trigger with your left index finger to go forwards. To stop the Jumpshot ST, gently push away from you with your left index finger - hold it there to go into reverse. It takes seconds to get used to this easy operation, and in no time at all you'll be ripping off jaw-dropping, big-air jumps and stunts!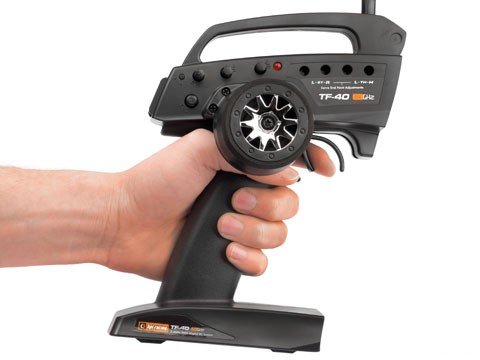 Full Adjustability and Tuning Potential!
The Jumpshot ST drives and performs fantastic right out of the box, however if you want to, it's easy and quick to adjust plenty of settings, exactly like a real monster truck! Adjustments such as ride height, shock angle and more are merely a turn away with your fingers or a wrench if you want to dive under the hood – HPI make it easy to be your own monster truck mechanic AND driver! More complex adjustments such as camber settings can be done with option parts you can get from your RC hobby shop.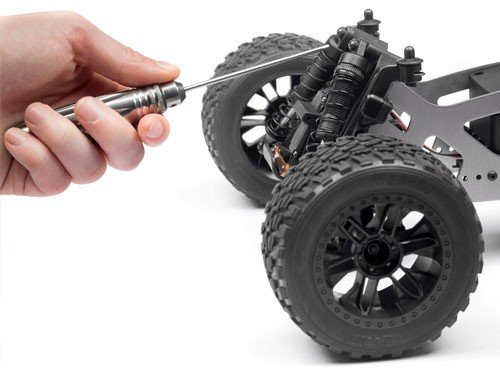 Big all-terrain tires for non-stop action!
Huge all-terrain tires are one of the things that makes real monster trucks stand head and shoulders above everything else around them, and the Jumpshot ST does not disappoint! Tackle terrain anywhere with real rubber tires designed to handle dirt, grass, gravel and loads more! You can also hit the wet stuff, too: the extra-wide tires let you roll over mud, snow as well as over jumps and any obstacles that may get in your way! The tires are wrapped around extra-cool looking chrome wheels that look great whether the Jumpshot ST is sitting on your shelf or kick up mud and rocks as it's flying across a stream.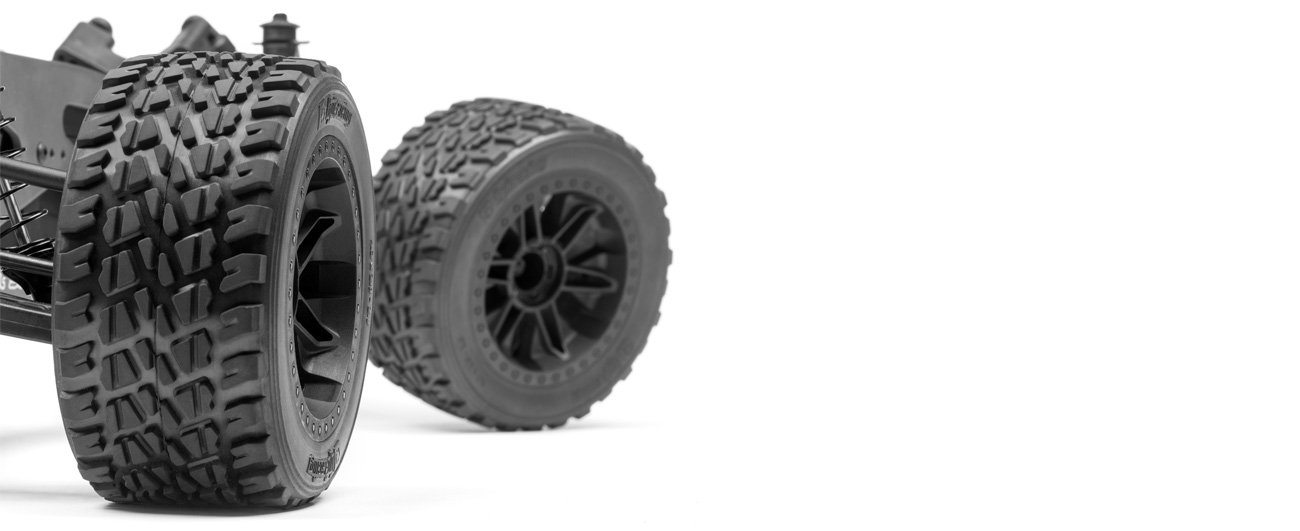 BUILT FOR EXTREME FUN
The Jumpshot ST is built just like the legendary and award-winning Savage, with a TVP (Twin Vertical Plate) lightweight aluminum chassis that runs from the front to the rear. Sandwiched between the chassis plates are the battery and electronics boxes, plus the steering module and transmission with the suspension mounts. This makes the Jumpshot ST extra-strong and super durable so you can have fun for hours and hours!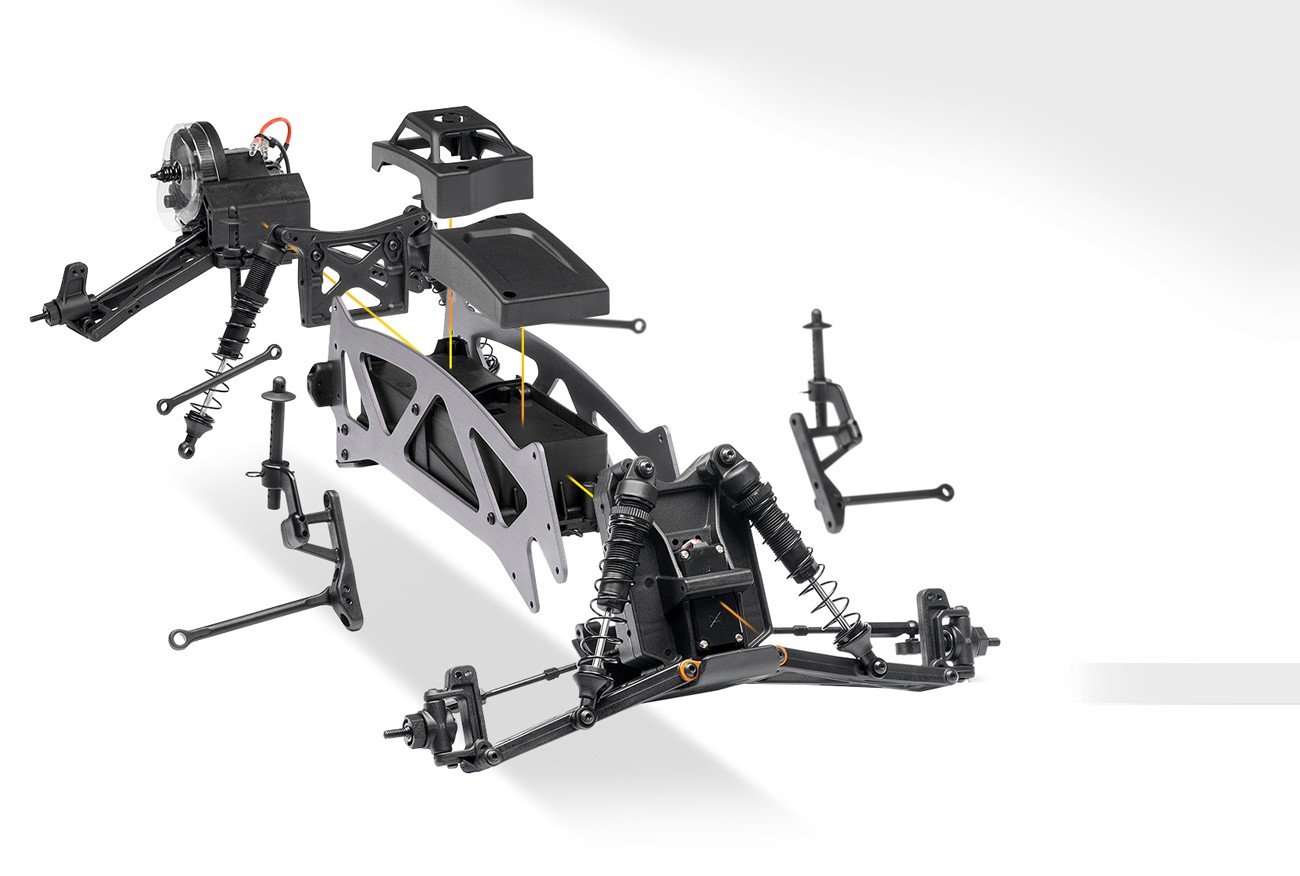 EXTRA-TOUGH SAVAGE-STYLE CONSTRUCTION
With durable skid plates front and rear, ribbed battery box door and Savage-style TVP (Twin Vertical Plate) lightweight aluminum chassis, the Jumpshot ST is made to take anything you can throw at it! Tough yet flexible suspension parts flex when the truck hits something hard, and the wheels are made from impact-resistant nylon plastic material so they won't split or crack under pressure. The Jumpshot ST is made to take a beating!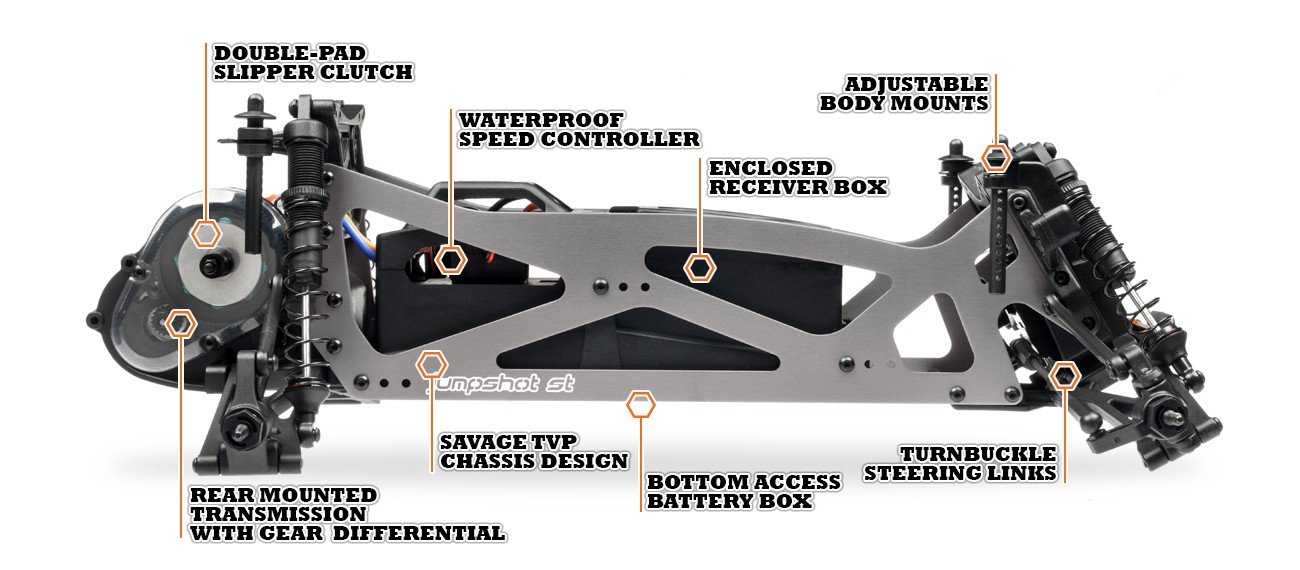 REAL OIL-FILLED SHOCK ABSORBERS
The Jumpshot ST is equipped with long-stroke, oil-filled shocks just like you see on real monster trucks! The outside of each shock absorber is threaded so you can quickly adjust the ride height: lower the truck for on-road action, and raise it for big-air stunts!
TOUGH GEAR DIFF
A strong gear differential helps transfer the power from the rear-mounted motor to the rear wheels, its 4-gear construction allowing you to put the power down for some serious speed and loads of fun as you hit the jumps!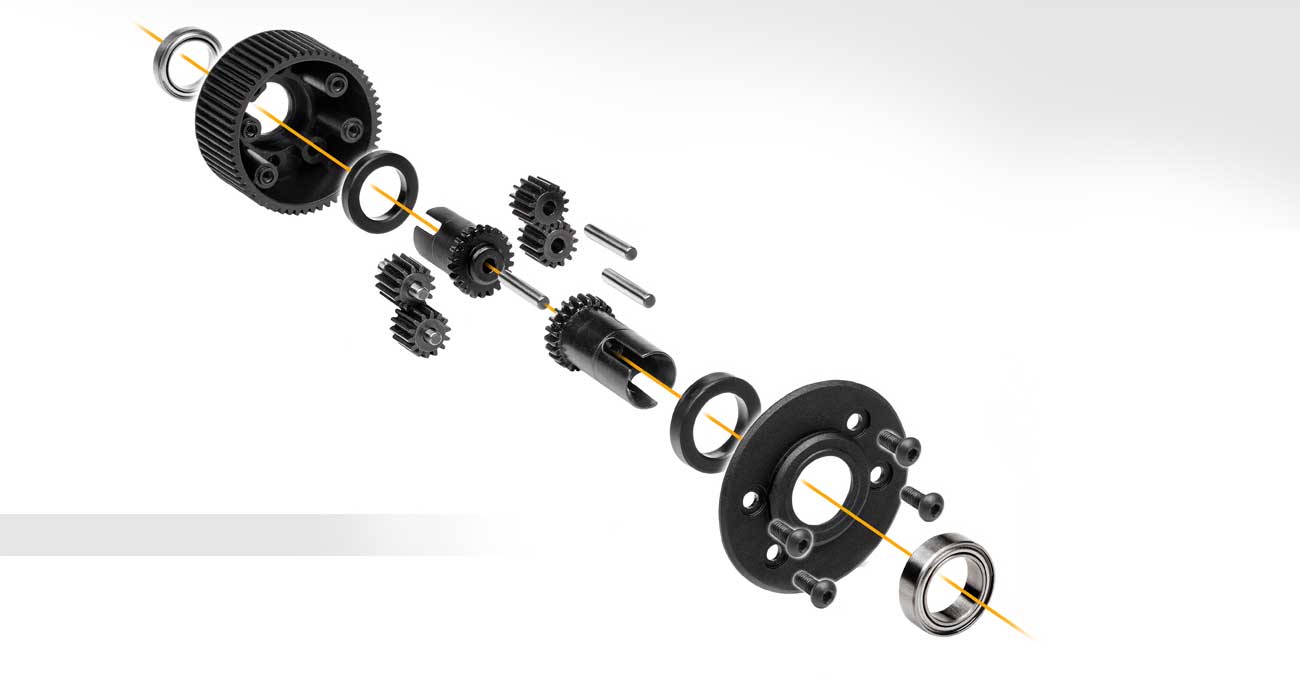 PROTECTED ELECTRONICS
The Jumpshot ST lets you run in wet conditions because the electronic speed controller and steering servo are fully waterproof, plus the receiver and battery are protected within their special compartments to keep the worst bits of mud and big splashes of water away from them.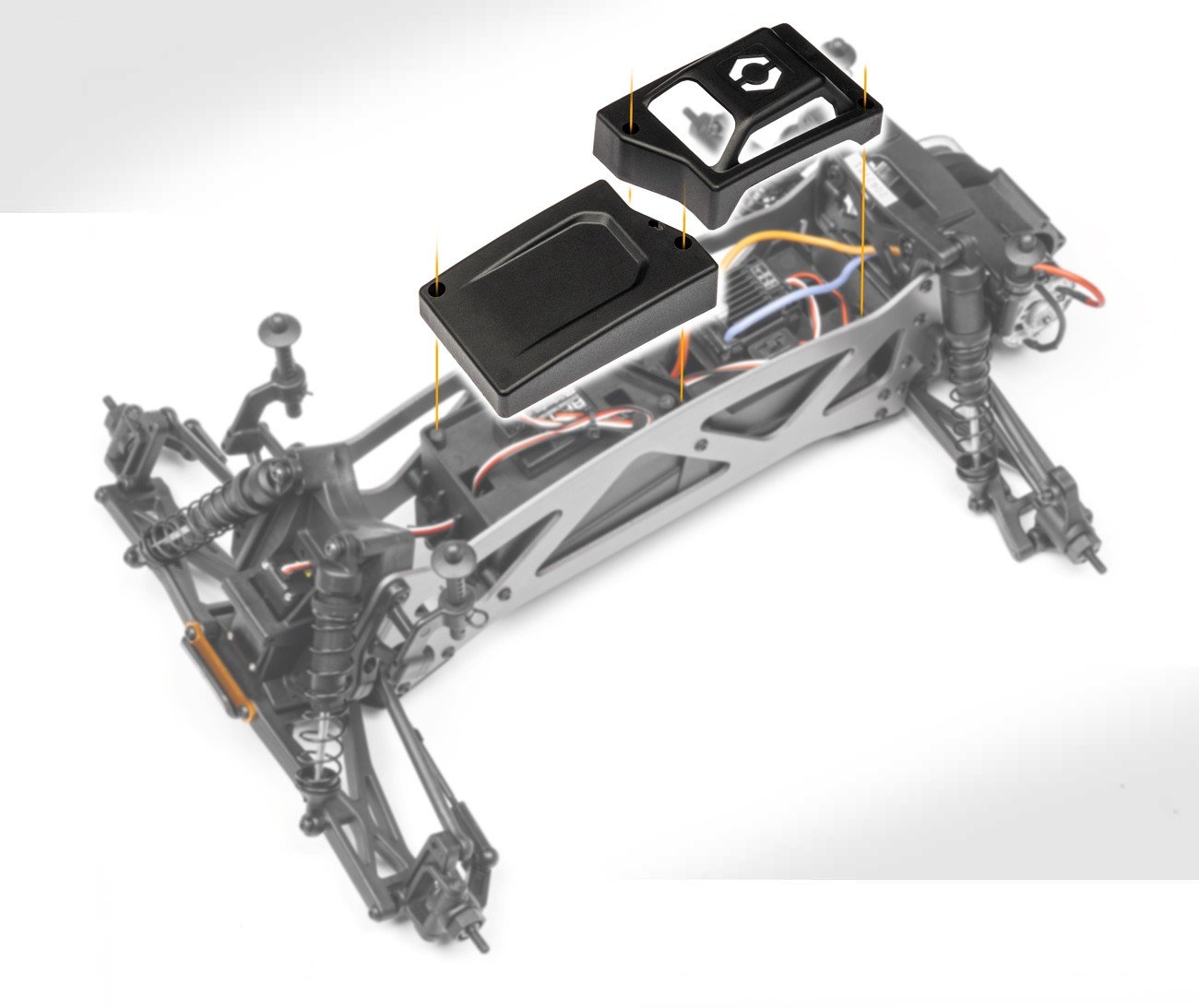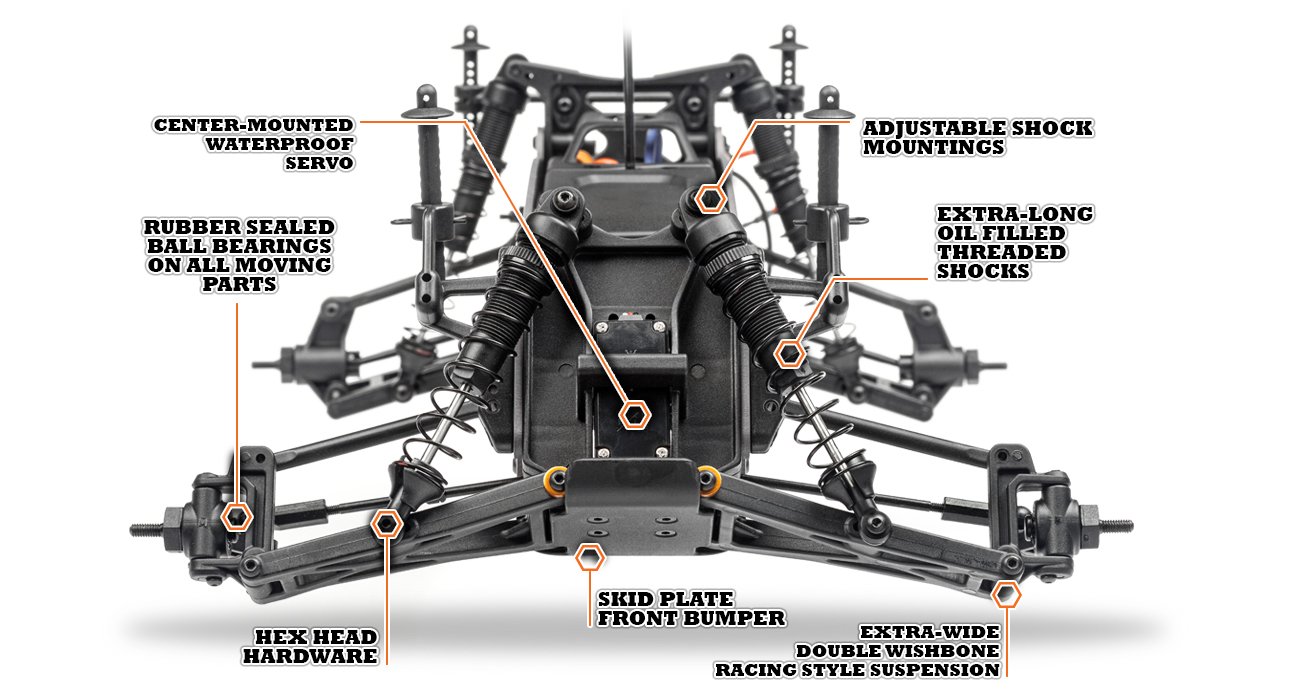 BOTTOM-ACCESS BATTERY DOOR
The Jumpshot ST features a hinged battery door underneath the chassis so you don't need to take the body off to change battery packs. Driving with your friends has never been so easy! The battery door is secured with a metal clip and the full-length ribbing allows it to function as a chassis skidplate.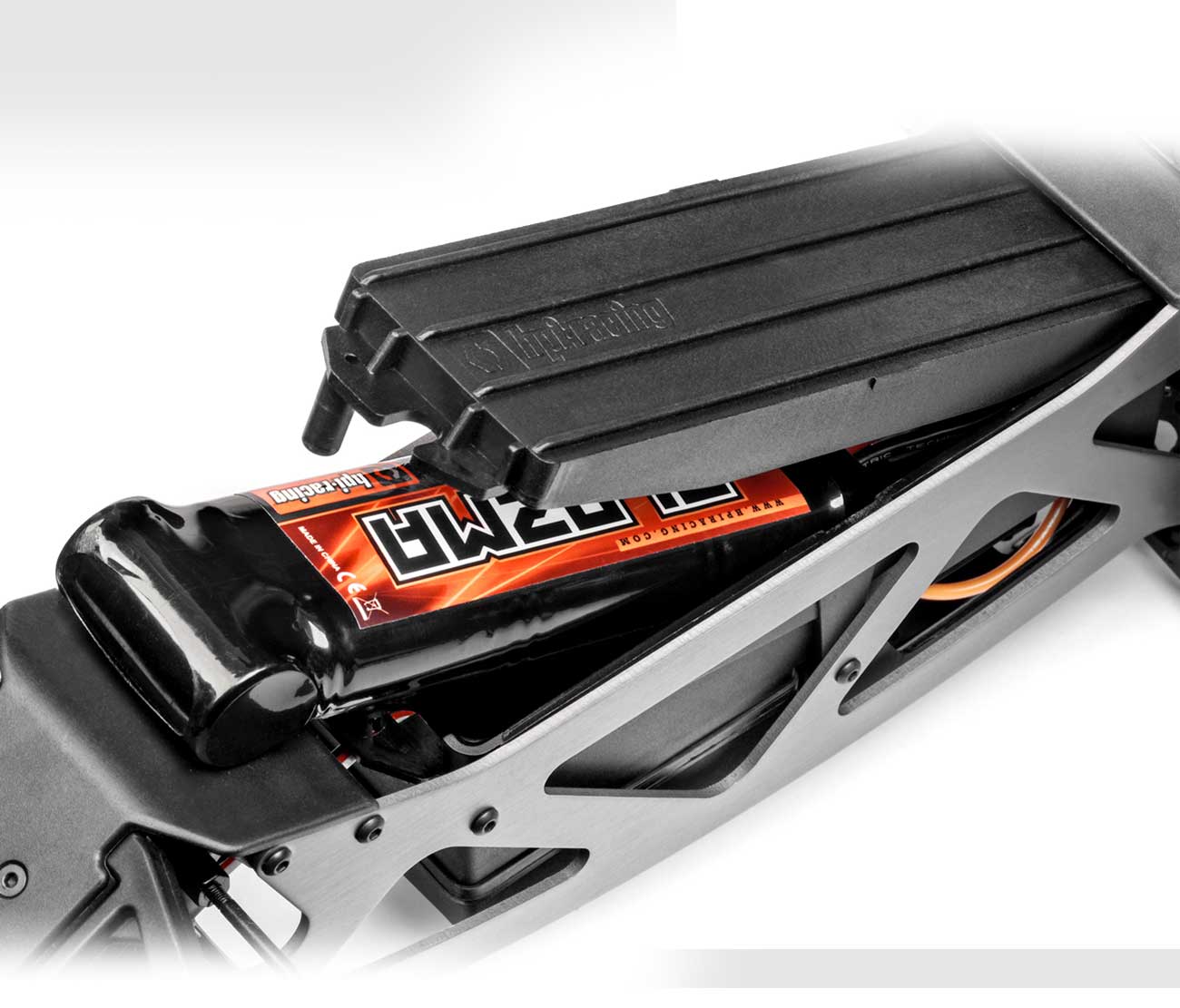 Factory-built Ready To Run 2WD stadium truck
Tough aluminum TVP chassis design
Battery box fits NiMH stick packs and 2S LiPo packs
Battery easily accessible from bottom of chassis
HPI SC-3SWP2 Waterproof LiPo-ready ESC
Enclosed receiver box
2.4 GHz radio system
Oil-filled shock absorbers
Double-wishbone suspension design
Sturdy body mounts
Standard 12mm hex hub wheel fitting
Pick-up truck style body with the latest HPI graphics
Large all-terrain tires
Black 6-spoke wheels
Battery, wall charger and transmitter AA batteries included
116112 Jumpshot ST RTR
1/10 2WD Electric Stadium Truck

Specyfikacja:
Długość: 420mm
Szerokość: 315mm
Wysokość: 190mm
Rozstaw osi: 295mm
Waga: 1.70kg
W zestawie jest wszystko czego potrzebujesz:
4x AA baterie do pilota
Akumulator do modelu 7.2v 2000mAh NiMH
Ładowarka 230V do akumulatora
Model jest złożony, gotowy do zabawy !